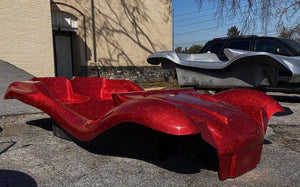 DUNE IMP BODY IN METAL FLAKE GEL COAT COLORS HOOD FITTED AND MOUNTED.
Part Number - C058-BB390 - Standard Gel Coat $3694.00
Part Number - C058-BB391 - Metal Flake $4311.00
Part Number - C058-BB392 - Special Metal Flake $4561.00
This body does require the use of the IMP Chassis because it is a little longer than the Nostalgia & Lancer bodies.  
This is a Special Order Part & Shipping is not included.  Please reach out to faron@109DuneBuggies.com for shipping information.