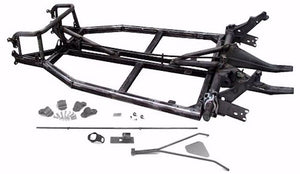 The 80″ wheelbase Roadster-T chassis & fiberglass floor was designed to complement our own Roadster-T body. The roadster T chassis is designed to use VW type 1 running gear, 1958 thru 1978. Pre-1966 front ends will require shock mount modification. It's stronger than a stock pan, plus saves time and allows tunnel access from underneath that you don't get with a stock chassis. The fiberglass floor features a ribbed design for added strength. The shiny, black, gel-coat finish won't rust and doesn't need to be painted. The tunnel on the Roadster-T chassis floor has been modified to relocate the shifter further back to compensate for the repositioning of the drivers seat further back on the pan, than in the VW Beetle. The chassis is made of square tubing, with a 2″ main frame & 1-1/2″ infrastructure, adding an extra 1-1/2″ of lift to the body for increased tire clearance. It features body mounting holes that are pre-drilled, sealed and recessed so that the bolts do not protrude below the chassis. Please specify when ordering whether you will be using stock VW pedals & master cylinder or a hydraulic pedal package.
When you purchase a Chassis from 109 Dune Buggies, you will receive an MCO (Manufacturers Certificate of Origin) that will be used in place of a Title.  For fellow Texas residents, this will make the process regarding getting your Dune Buggy LEGALLY Titled/Registered in the State of Texas far easier, than if you had an Original OEM Chassis or no Title at all. 
This is a custom order part
Price does not include shipping, please reach out to Faron@109dunebuggies.com for shipping cost. 
There is a Core Charge for the Rear Torsion Housing of $500.00   
---
The Roadster T chassis comes standard with:
Fiberglass Floorpan drilled and mounted
8 front-end clamps w/bolts & nylock nuts
Shift coupler inspection plate
A sandblasted & capped stock VW torsion with Chrome Spring Plate Caps
Tube for the throttle cable
Tube for the clutch cable
Tubes for emergency brake cables
Brackets installed for mounting: e-brake handle, shifter, shift tube w/bushing, pedal box for mounting a stock VW pedal assembly & master cylinder
A reinforcement plate if you will be using a hydraulic pedal package
MCO (Manufacture Certificate of Origin)
Part #C058-BB313  - $2970.00
---
Roadster T Chassis Options
Weld on Battery Box
Rear Bumper Cage Kit (Merged or Split Exhaust Available)
Narrowed Rear Torsion Area (Swing Axle Only)
109 Dune Buggies can offer Powdercoating & Shipping. 
A shipping or Delivery Fee will be applied, please email faron@109DuneBuggies.com for more information on Shipping.